In this day and age, there are many techniques that will give you more radiant and smoother skin, like Botox and laser treatments. These procedures are available in many clinics whose goal is to satisfy clients with the results and achieve youthful looking skin. But have you ever considered getting these two treatments together?
This article will explore whether or not it is possible to receive both procedures on the same day and how to have superior results.
How Does Botox Work?
What is Botox? It is a protein made from botulinum toxin. What Botox does is block signals from the nerves to the facial muscles. Injected muscles can't contract which makes wrinkles soften and relax. Botox is commonly used on forehead creases or forehead lines, crow's feet, lines around the eye, and frown lines. 
Aside from getting Botox, injectable treatments like dermal fillers are also possible. It is a gel-like substance that contains hyaluronic acid that is injected beneath the skin to restore sagging skin, smooth fine lines and soften creases.
Botox reduces dynamic lines, smile lines, and nasolabial folds. Combining these three treatments will give you smooth and glowing skin.
How Do Laser Treatments Work?
Laser treatment uses light which is tuned to specific wavelengths that allow it to be focused into powerful beams. One of the disadvantages of laser lights is that the light is intense and it has the ability to cut steel and shape diamonds.
Surgeons make use of laser energy to work at elevated levels of precision, focusing on smaller areas which damage less surrounding tissue.
Laser skin resurfacing is employed to diminish the appearance of wrinkles and acne scars, to even out skin pigmentation and to eradicate benign and malignant lesions.
The lasers stimulate the development of new collagen fibers and collagen production. This popular procedure is also known by the names lasabrasion, laser peel.
After you've gone through the complex process of laser resurfacing, you can see optimal results in about two weeks.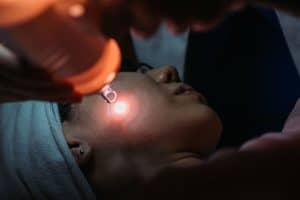 Can You Combine Botox And Laser Treatment?
If you ask the question: Is it possible to combine laser and Botox injections? The answer is yes—you are able to do so!
Dermatologists said that combining these procedures might provide you with an even superior outcome. 
The function of botox is to treat aging skin, forehead wrinkles, deep wrinkles, fine lines and wrinkles, dynamic wrinkles. Whereas laser resurfacing concentrate on skin concerns, enhancing facial quality, improve skin tone and overall facial rejuvenation. Having both procedures can help you achieve smoother and glowing skin. 
Benefits Of Combining Botox And Laser Treatments
Medical professionals and some patients are interested in the idea of combining both treatments. For them, there are a lot of benefits if the two procedures are combined such as:
1. Long-Term Effects
The effects of botox usually lasts between 3 and 6 months, while laser can have different time effects, at least two weeks, based on the best laser used. If you use these methods together, you're likely to get better results than if you only used one of them.
2. Targeted Approach
The two procedures work differently. What Botox does is temporarily paralyze muscles for wrinkles to be smooth. On the other hand, lasers work to stimulate collagen growth, improve skin texture, and address pigmentation. In using both treatments, you can target specific concerns from different angles, potentially leading to a more complete rejuvenation.
3. Reduced Downtime
Some cosmetic treatments, specifically laser, can commonly make skin red, peel, or have other side effects that require time off. By using the two procedures together, you might be able to shorten the time you need to rest after the laser treatment. This is because Botox alone can relax muscles and prevent you from moving your face muscles too much, which could slow down the healing process.
4. Cost Efficiency
If you combine these cosmetic services or treatments as opposed to getting each one separately, you're likely to reduce the cost considerably. Some centers or providers may offer packages for treatments that go together.
5. Single Session Convenience
If you want to take care of more than one problem, implementing both laser and Botox could make it easier to address them all at once instead of making separate appointments.
Consult with a Professional
Make sure to ask your skincare doctor or plastic surgeons about the options available to you. Additional treatments alongside botox and dermal fillers like non-ablative lasers and non-ablative fractional lasers are also available to achieve natural-looking results.
Ready to stay wrinkle-free? Don't wait! Try this popular and proven treatment at Lisa Rux in Dallas to have a more youthful appearance!