Say goodbye to wrinkles and lines. whether you want subtle volume or a little extra volume. Our family of fillers give beautiful results to those smile lines, lips that want subtle fullness, smile lines, lift to cheeks, chin and jawline and under eyes to smooth and fill. Botox helps to soften those lines between eyes, forehead, crows feet or hyperhydrosis for that annoying underarm sweating.
Botox® injections are a non-invasive way to treat aesthetic concerns, including wrinkles, fine lines, crow's feet, and even facial asymmetry.
Our med spa helps patients from the entire Dallas region, and gives you the best of worlds– a combination of medical-grade cosmetic procedures from Lisa Rux, Medical Aesthetician, and the comfort of our peaceful office located in The Women's Centre.
Named #1 facial in the USA by Allure, Vogue and InStyle magazines! HydraFacial is a medical grade resurfacing treatment that clears out your pores, while hydrating your skin. The 4 step treatment includes cleansing, exfoliating, extracting, and hydrating the skin with serums that are infused into pores with the HydraPeel Tip. Get the smoother, younger, and glowing skin you have always wanted.
Medi-Inject And Microneedling
Be the be "youth"-iful version of you with the touch of your trusted Medical Aesthetician. Face the world without being tied to a certain age as our micro needling service is packaged to bring back your youthful and radiant glow.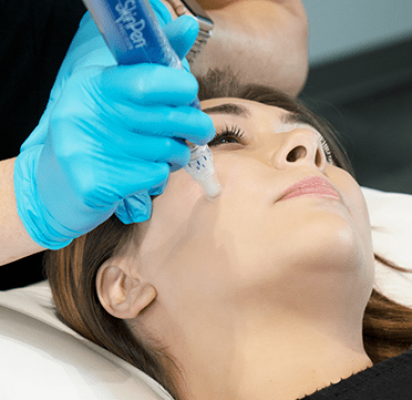 Our TCA Chemical Peel treatments are specifically designed to remove the damaged skin caused by sun exposure and age. This treatment improves the appearance of moderate to advanced signs of fine lines, wrinkles, hyperpigmentation, melasma and acne scars. Revealing healthier and younger-looking skin.
Microdermabrasion is a non-invasive rejuvenation treatment. This is best in treating wrinkles, scars, blackheads, and sun-damaged skin. Say goodbye to lifeless and dull skin. Say hello to new and beautiful skin!
For our laser services, we use both ablative and non-ablative lasers. Both are designed to treat specific skin problems. We offer CO2 Facial Skin Resurfacing and YAG Laser treatments.
Introducing MediDiode! Painless laser hair removal. MediDiode's unique design covers a larger surface area while its chilled tip reduces discomfort. Buy 5 treatments, get 1 free. 
The coolest way to wave goodbye to your stubborn fat doesn't have to be painful. Be in your best shape and choose the most sought-after alternative to other invasive body treatments with Coolsculpting.
We provide makeup lessons that include application, technique, and will show you what types of tools are needed. Bring your makeup or we can show you how our mineral makeup can make your skin GLOW!
Interested in a consultation or appointment?