When patients get in touch with me for a dermal filler consultation, their biggest concern is how natural the results will look.
Nobody wants to look like the classic case of "plastic surgery gone wrong," but is it really possible to achieve a natural and youthful look through dermal fillers?
To give you some peace of mind, I'll be reviewing the ArqueDerma® Artistic Restoration Lift® technique, a patented procedure specifically developed to bring dramatic yet natural results.
What makes ArqueDerma® so innovative, and is it really the future of cosmetic facial injections? 
Let's find out together!
What is ArqueDerma®?
The ArqueDerma® Artistic Restoration Lift® is a patented technique that delivers FDA-approved dermal fillers including Juvederm®, Restylane®, Restylane Refyne, Restylane Defyne, Perlane®, Voluma®, and Revance RHA.
The technique was developed by Leslie Fletcher, RN, MEP-C.
The ArqueDerma® Philosophy
"The art of reshaping the face to its most aesthetically-pleasing proportions lies in enhancing and supporting its basic underlying structure."
What inspired the start of ArqueDerma®?
Since 2001, Leslie Fletcher, RN, MEP-C has worked with thousands of patients as an aesthetic nurse injector. As a leading figure in the aesthetic injecting community, she's been trusted to train over 3,000 nurses, physicians, and physician assistants.
Leslie noticed that even after patients received the cosmetic procedures they requested, they were also looking for "something more" to be done about their sagging and aging skin. 
While dermal fillers do give great results, Leslie wanted to look for a way to give her clients exactly what they wanted –– a natural and youthful appearance. 
Because of this, she was inspired to create a new method that would use industry-approved dermal fillers and injections innovatively. 
Leslie cleverly named the procedure ArqueDerma®, inspired by the concept of creating a support system for the skin–– more on that later!
What is ArqueDerma® for?
ArqueDerma targets the "hollowed" facial areas due to aging and damage from UV rays and weight loss.
It effectively corrects volume loss with a precision injection technique that relocates redundant facial volume into facial hollows. 
Thanks to the innovative method of ArqueDerma®, a world of possibilities has opened up for the challenging treatment of jowls and marionette lines.
By assessing a patient's facial structure, licensed ArqueDerma® practitioners can effectively artistically administer FDA-approved dermal fillers for a longer-lasting youthful appearance.
More than that, ArqueDerma® was found to stimulate collagen production while naturally reabsorbing damaged collagen.
How does ArqueDerma® work?
Patients wary of trying something new will be happy to know that ArqueDerma® practitioners only use FDA and medically-approved dermal fillers and needles. 
What sets ArqueDerma® apart isn't the materials used but how they're administered. You'll soon learn why that makes all the difference!
Instead of "pooling" copious amounts of hyaluronic acid dermal fillers in hollow facial areas, ArqueDerma® practitioners administer thin columns of the filler product according to a strategic relocation plan.
Leslie Fletcher found that dermal filler patients generally have lots of extra facial volume to work with. With that discovery, relocating that extra volume to hollow areas may be more effective than simply filling them in with more product.
This inspired the creation of an innovative procedure that used the dermal filler and needle to restructure and lift lax facial tissue. The result was a more natural and youthful appearance due to the smoothing effect of the strategic application of hyaluronic acid.
Another reason why ArqueDerma® is so effective is that it's based on the controlled injury theory. Fibroblasts are stimulated when a specific amount of pressure is applied to tissues, causing increased collagen production.
With the combined concept of restructuring facial tissues while increasing collagen production, it's no wonder how ArqueDerma® can improve the results of dermal fillers tenfold.
What sets ArqueDerma® apart?
As I've said, ArqueDerma® practitioners only use industry-standard dermal filler materials, so how big of an impact does the technique make?
The most obvious difference is in the aesthetic result itself. 
ArqueDerma® technique uses dermal fillers to strategically relocate and redistribute excess and sagging facial volume toward a facial hollow, resulting in a smooth and youthful appearance. With the conventional volume replacement methods, a "marshmallow" appearance is common because facial hollows are filled up with excessive amounts of dermal fillers.
Because the technique also stimulates collagen growth, less dermal fillers are needed for a longer-lasting effect.
Amazingly, the ArqueDerma® technique uses 40% less dermal fillers than conventional methods. 
If you ask me, a technique that can extend the effects of dermal fillers to 14 to 18 months is a true gamechanger!
Is ArqueDerma® the future of cosmetic injectables?
The demand for non-invasive and affordable cosmetic procedures has reached a deafening volume in recent years. With the overwhelming popularity of ArqueDerma®, more patients are starting to realize that cosmetic surgical procedures can be enhanced or delayed with this technique. 
Many medical practitioners, including myself, believe that ArqueDerma® is the best minimally invasive procedure to replace a facelift.
By administering dermal fillers artistically and strategically, clients can achieve a longer-lasting effect with little recovery time and with the use of less dermal fillers.
More than that, the careful arcing of the needle helps to disrupt damaged and aging skin fibers. With that, achieving a truly natural and youthful appearance is possible with increased collagen production.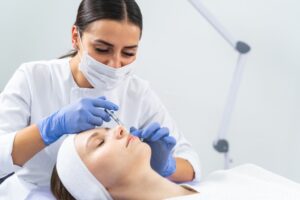 Growing Demand For ArqueDerma® Specialization
The challenging yet effective ArqueDerma® technique can only be administered by a licensed ArqueDerma® practitioner. 
Training will require skilled medical practitioners to assess the facial structure and strategically map the best way to administer columns of dermal fillers.
After over 20 years of practice in the medical skin care industry, I've handled hundreds of dermal filler procedures. I know the results that patients want to see, which is why I, Lisa Rux, am an advocate of the innovative, effective, and cost-effective ArqueDerma® Artistic Restoration Lift® technique. 
I am a licensed ArqueDerma® practitioner. I can guarantee that My patients are 100% satisfied with the results of the ArqueDerma®  technique.
If you're curious to know more about the procedure, schedule a complimentary consultation with me, Lisa Rux, at  (940) 231 5636