The Lone Star state is not only known for its diverse landscapes and agriculture. The state is home to various elite Medical research centers, with fifteen medical institutes, four dental schools, and two optometry schools. 
The University of Texas MD Anderson Cancer Center located in Houston is an esteemed academic institution that focuses on caring for cancer patients. The research conducted within the institution aims to achieve an in-depth education geared toward cancer prevention. 
Given its leading standard in medical research and education, Dallas is also home to highly-regarded medical institutions. Many of the institutions in Texas are highly sought after. Some even travel or migrate for the high-quality medical education Texas provides.
Below, we list some of the most popular providers found in the area.
Best Medical Clinics in Dallas
Village Health Partners – Frisco Medical Village
(Best Community Medical Care. Dallas, TX)
This Village Health Partner, the Frisco Medical Village, is a medical institution devoted to providing the utmost quality patient care to its community. Its goal is to cultivate an environment of warmth, compassion, and reliability through its professional services.
Patient-doctor confidentiality is among the institution's valued priorities. Patients can open up more about their medical concerns to their designated healthcare professional through open and honest communication. 
The benefits of honest and respectful dialogue between physicians and patients lead to the better education of a patient's personal healthcare. 
The clinic offers a full suite of medical services, including standardized tests and more that provide an in-depth analysis of a patient's health. 
The Family Medicine – Primary Care Clinic (Best in Family Care, Dallas, TX)
If you are looking for comprehensive medical care for your infants, children, grandparents, and the rest of the family, this clinic has everything you are looking for in family care. 
The medical professionals within the clinic are all certified primary care physicians. Their wealth of knowledge, vast background, and compassion are accessible to families within the Dallas area. Each medical provider has extensive experience in managed care plans and commercial insurance. 
Should patients require special medical attention, they will be referred to specialists with the required expertise while the clinic's physicians will still attend to the overall care and health management. 
Children's Health – Children's Medical Center (Best Pediatric Specialists, Dallas, TX)
When it comes to providing children's healthcare, the Children's Health Medical Center has provided Texans with only the most reliable and sophisticated services for the last one hundred years. 
Pediatric healthcare requires added amounts of compassion, sophistication, and patience over the technical skills needed in healthcare. The mental and emotional toll diseases and recovery can take on a child are equivalent to the physical impact children's bodies may procure. 
The medical professionals and pediatric physicians are trained to treat a broad scope of medical concerns that are tailor made for more delicate minds and bodies. All parents want for their children is to find physicians who will provide medical expertise and familial compassion in treating their children. That's what you will find within this clinic.
The Best Cosmetic Clinic in Dallas
Some of the esteemed alumni of the state's Medical academies have also ventured off into cosmetology. 
According to the American Society of Plastic Surgeons, Botox® has been booming. The demand for these popular injectables has risen recently, and in 2020 was ranked as the Most Popular Non-Invasive Cosmetic Procedure. Over 4.4 million procedures involving Botox® were reported in 2020 in the United States, with over a hundred thousand coming from Texas.  
The medical advances in cosmetic procedures within Texas have made the subject of Botox® less of a taboo and instead fondly embraced by today's culture. In the city of Dallas, Botox® is a crowd favorite among women and men, surprisingly even among teenagers. 
Both Dallas and Fort Worth have seen a rise in medical facilities that specialize in the usage of Botox®. We will save the best clinic that offers the sought-after injectable for last on this list and start with other facilities that provide other forms of cosmetic procedures. 
The state houses some of the best cosmetic clinics anywhere in the United States. We have compiled a list of the most renowned Texan clinics below. Read on if you are looking for reliable medical Aestheticians in Texas. 
What is the Difference Between Cosmetic Surgery and Plastic Surgery?
Before we give you the lowdown on the best cosmetic clinics in Texas, let's clear this up right now: there is most certainly a difference between cosmetic surgery and plastic surgery. 
Plastic Surgery
The kind of procedures that fall under this category is characterized as surgeries that specialize in reconstructing defects found in the face and body due to disorders or deformities from birth, traumas, severe burns, and diseases. Plastic surgery is geared toward correcting dysfunctional body parts and going by technical definition, it is reconstructive.
Cosmetic Surgery
Unlike plastic and reconstructive surgery, cosmetic surgery is elective. The Medical professionals who execute cosmetic procedures come from various medical fields, including plastic surgeons. The techniques used and methods performed under this category center around the enhancement of features. These surgeries are primarily for aesthetic purposes to heighten a patient's appearance, with no other medical or functional purpose behind it. Due to its non-essential nature, it is deemed elective or optional.
Now that we have figured out the difference between the two, let's get on with the list.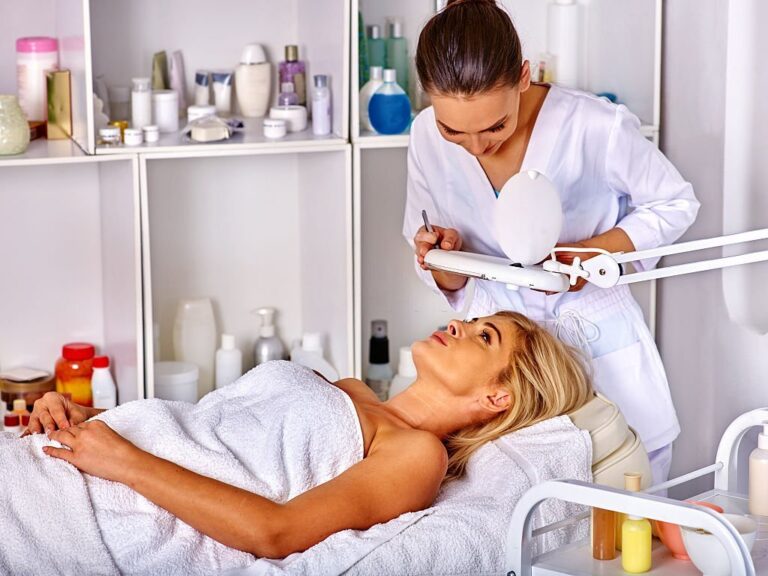 The Best Medical Aesthetician in Dallas, TX (Offering Botox®)
Read on if you want to know more about the leading cosmetic clinics in the entire state of Texas.
Lisa Rux Medical Aesthetician (Best in Skin Rejuvenation, Denton, TX)
Lisa Rux has an extensive background in Medical Skin Care, specializing in Medical Aesthetics and Injectables. With a career that has amassed over twenty-two years of field experience encompassing different industry sectors such as Professional-Grade Peels, Dermal Fillers, Microneedling, Laser Skin Treatments, and Neuromodulators. 
Lisa Rux'  med spa features skin-care technology and unique injectable techniques. These exclusive products and treatments include:
ArqueDerma Artistic Restoration Lift

 
The ArqueDerma® Artistic Restoration Lift® is a state-of-the-art technique involving dermal fillers that reverses the loss of facial volume by collecting redundant volume in other areas of the face and redirecting them to the more hollow regions. 
The ArqueDerma® technology prolongs the efficacy of dermal fillers by a staggering 40% and stimulates natural collagen production.
Dermalight Prescription Cream 
The cream is prescribed to patients treating melasma, hyperpigmentation, and premature skin aging. The patented cream underwent all necessary testing before it was available to patients. 
Why Choose Her Clinic
This medical spa helps clients all across the Dallas region by offering the best of both worlds – a well-curated mix of medical-grade cosmetic procedures perfected by Lisa Rux within the luxurious comfort provided by the clinic, located in The Women's Centre in Denton, Texas. 
Botox® helps reduce fine lines and wrinkles, treats migraines, hyperhidrosis, just to name a few. 
The clinic serves up more than just Botox® and patented skin-care technology. Lisa Rux also offers various medical aesthetician services like:
Microneedling

w/ PRP

Laser Hair Removal

Medi-Inject Microneedling 

HA Fillers
Rely only on the most trusted medical professionals specializing in injectables for safe administration.